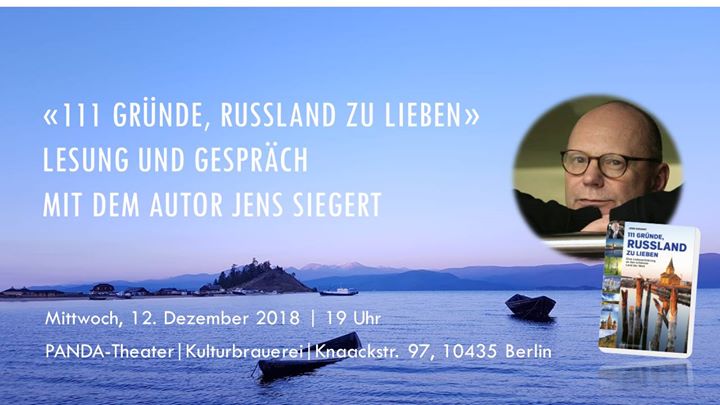 Reading: "111 Reasons to Love Russia" with Jens Siegert
P.A.N.D.A Theater
Knaackstr. 97
10435 Berlin
Russia expert Jens Siegert recently published his new book about the Reasons to Love Russia. In times of Crimean annexation and wars in Ukraine and Syria, as well as various Russian interferences and violations in Europe, the US and beyond, and the repressive domestic policy, it is not easy to set the right tone with such a topic. However, with his book, Jens Siegert has managed to portray Russia as a diverse and fascinating country, understanding, detailing and enlightening, as well as with much sympathy, and always with a critical eye.
Just to reveal some reasons for love: Because thieves have their own law. Because pegs wear a fur. Because toasts (almost) never end. Because it is a special art to make shop assistants smile. Because everything is always "normal". Because women in Russia are the strong sex. Because in Russia the dissidents were invented. Because history in Russia is unpredictable. Because traffic cops can be very human. Because there is a shortcut to everything …
JENS SIEGERT, born 1960 in West Germany, has been living and working in Moscow since 1993. First he reported on the country as a radio correspondent, then, from 1999, headed the Moscow office of the Heinrich Böll Foundation. He did not give up writing. In his Russia blog (http://russland.boellblog.org) and the "notes from Moscow" in the Russia analyzes, he accompanies the country friendly-critical.
We are looking forward to seeing you at the event!
Contact:
+49 30 284 22739
info@dekabristen.org
Decembrists e.V.
Friedrichstr. 128
10117 Berlin
dekabristen.org